Providing a range of financial functions as a member of JA Bank and JF Marine Bank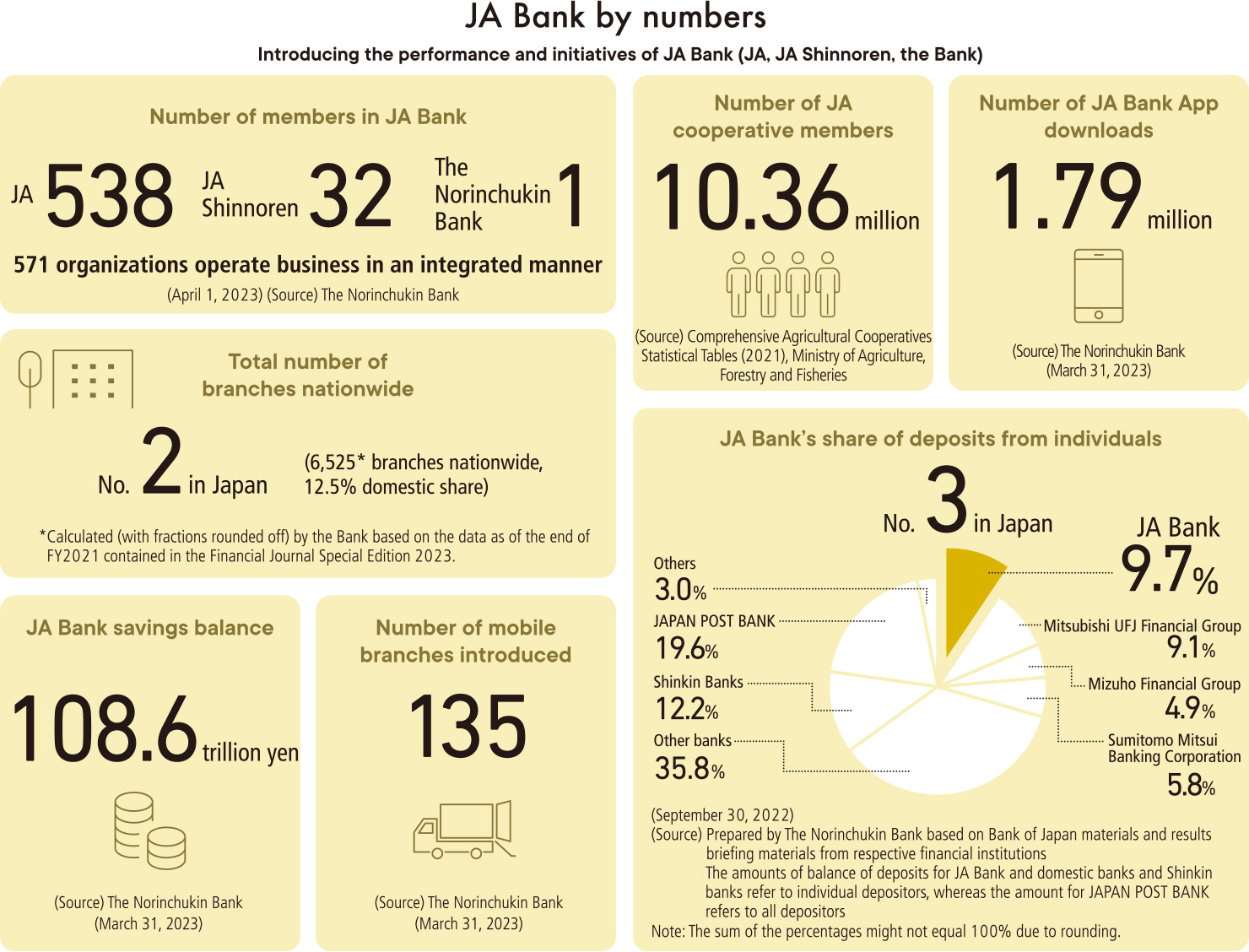 Developing businesses effectively as JA Bank and JF Marine Bank, while meticulously addressing the needs of each region, individual member and customers.
JA and JF in regions all around the country provide meticulous services to meet financial needs that vary by region and by individual member and customer, as independent financial institutions. To provide these retail services more efficiently and effectively, JA Shinnoren and JF Shingyoren are responsible at the prefectural level, and the Bank is responsible at the national level.
In the field of agriculture, we formed a financial network called "JA Bank" together with JA and JA Shinnoren. JA Bank offers appropriate financial products and services to accommodate customers' life events such as starting work, getting married, buying a house and retiring from work, and proposes stable financial asset building and management.
These services are collectively called the "life-plan support business," through which, in addition to various financial services such as savings, settlements and housing loans, JA Bank provides mutual fund and will trust services. Combining the services of other businesses operated by JA, we provide services that are possible only by businesses providing comprehensive services for customers of many generations.
Also, we are strengthening and expanding the non-face-to-face transaction channel by enhancing the functions of JA online banking and JA Bank App, etc.
In addition, we are reestablishing face-to-face transaction channels including "branch offices providing comprehensive services" equipped with specialists and client-relationship managers and "Yorisoi Plaza" to strengthen the contact point with users while enhancing efficiency.
In the field of fishery, JF Marine Bank, jointly operated by the Bank, JF and JF Shingyoren, develops business. In addition to the financing function by utilizing its knowledge as a fishery-dedicated financial institution, JF Marine Bank provides support such as consulting services for life support loans according to life events and business succession, thereby supporting the fishery business and the lives of local residents.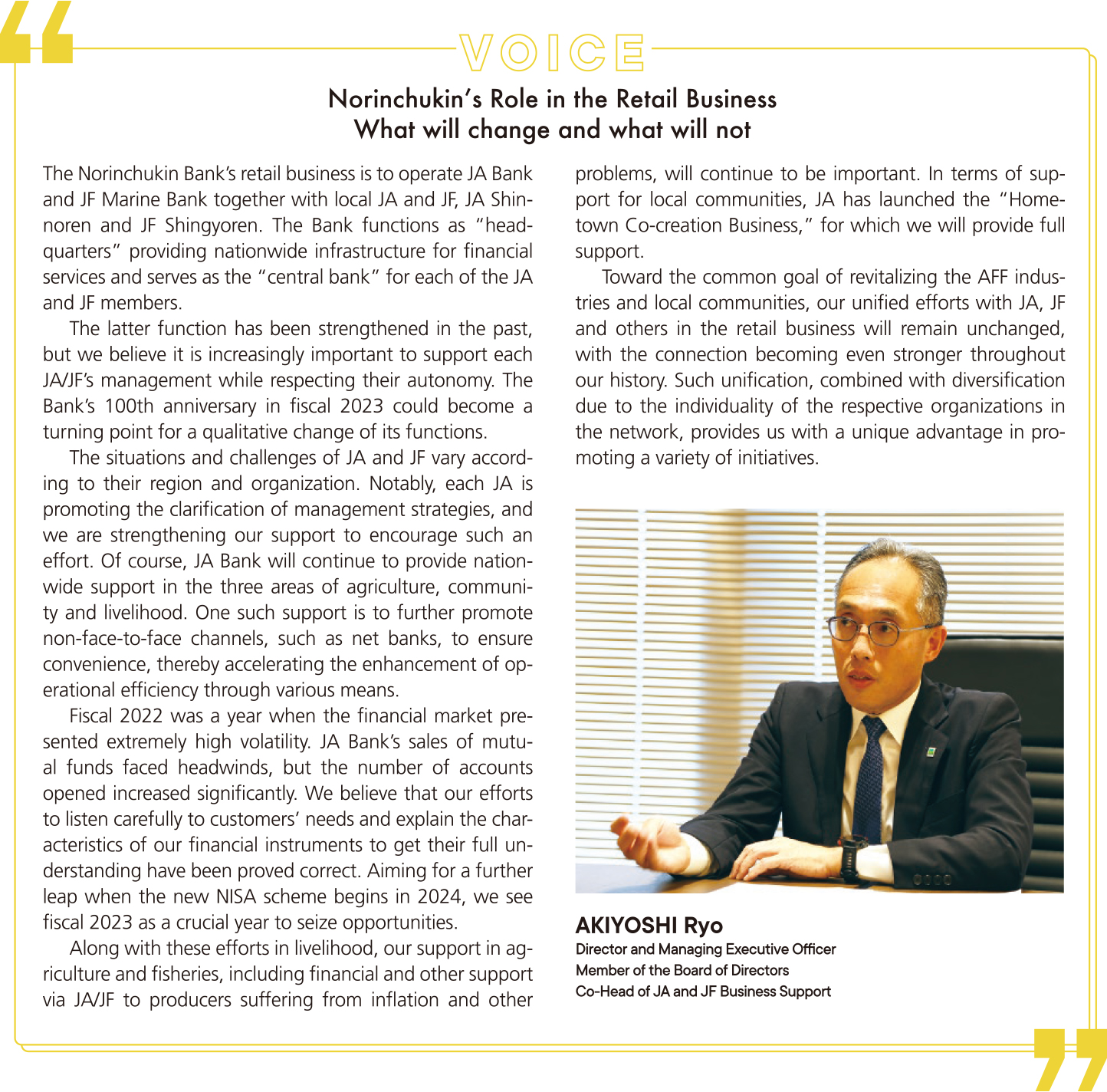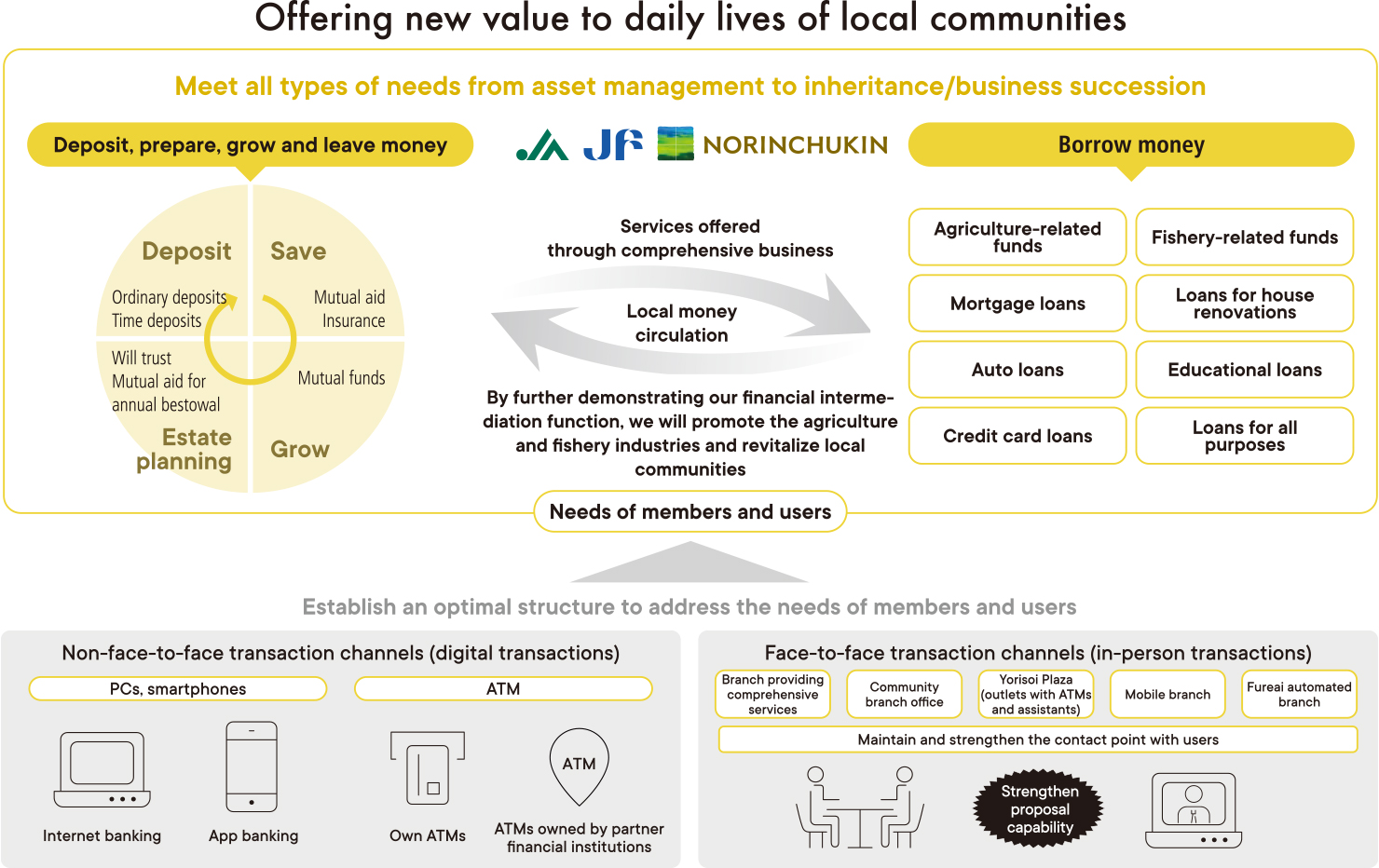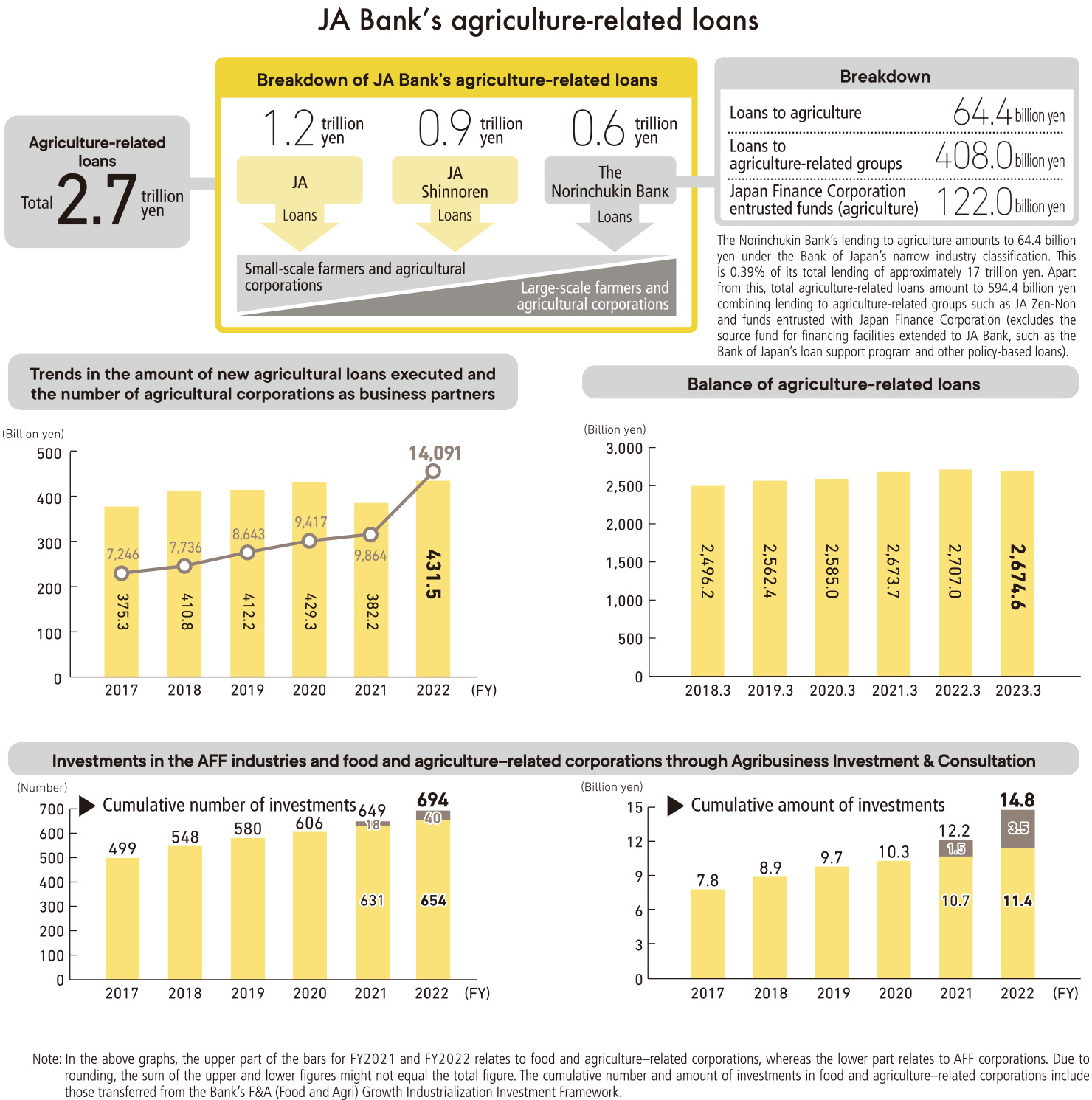 Strengthening the provision of loans and investments in the "Agriculture" field JA Bank continues to be the main bank for the agriculture industry
JA, JA Shinnoren and the Bank play each role as JA Bank in the area of agricultural loans. JA meets the funding needs of small-scale family farmers and agricultural corporations in each region, whereas JA Shinnoren and the Bank play the major role in meeting funding needs for farmers and agricultural corporations running large-scale operations.
As a result, JA Bank's agriculture-related loans total 2.7 trillion yen (including loans facilitated by JA Bank on commission for Japan Finance Corporation) with 1.2 trillion yen at JA, 0.9 trillion yen at JA Shinnoren and 0.6 trillion yen at the Bank.
The somewhat diminishing trend of JA Bank's agriculture-related loan balance turned to an increasing one in fiscal 2017 as a result of the strengthened approach efforts to agricultural corporations. Such trend accelerated in fiscal 2020 as a result of responding to our customers' financial needs amid the COVID-19 pandemic, and the new agricultural loan amount totaled 429.3 billion yen, a large increase from fiscal 2019. The loan demand decreased temporarily in fiscal 2021 due to the decline in the COVID-19 related loans, while the Bank continued responding to the wide range of financing needs.
JA Bank not only provides loans but also makes investments. For example, it actively invests in agricultural corporations that have technological capability but do not have sufficient capital to stabilize their financial position, supplying funds according to the growth stage of such firms. Through this initiative, the number of investment projects and the amount of investments executed via Agribusiness Investment & Consultation Co., Ltd., which was established by the JA Group jointly with Japan Finance Corporation, are on a steady rise.
Moreover, JA Bank and JF Marine Bank, as the main bank, operating in agricultural and fishery local communities, handle low-interest loans nationwide for customers affected by the spread of COVID-19 and consult on various relief methods including revision of repayment terms for existing loans.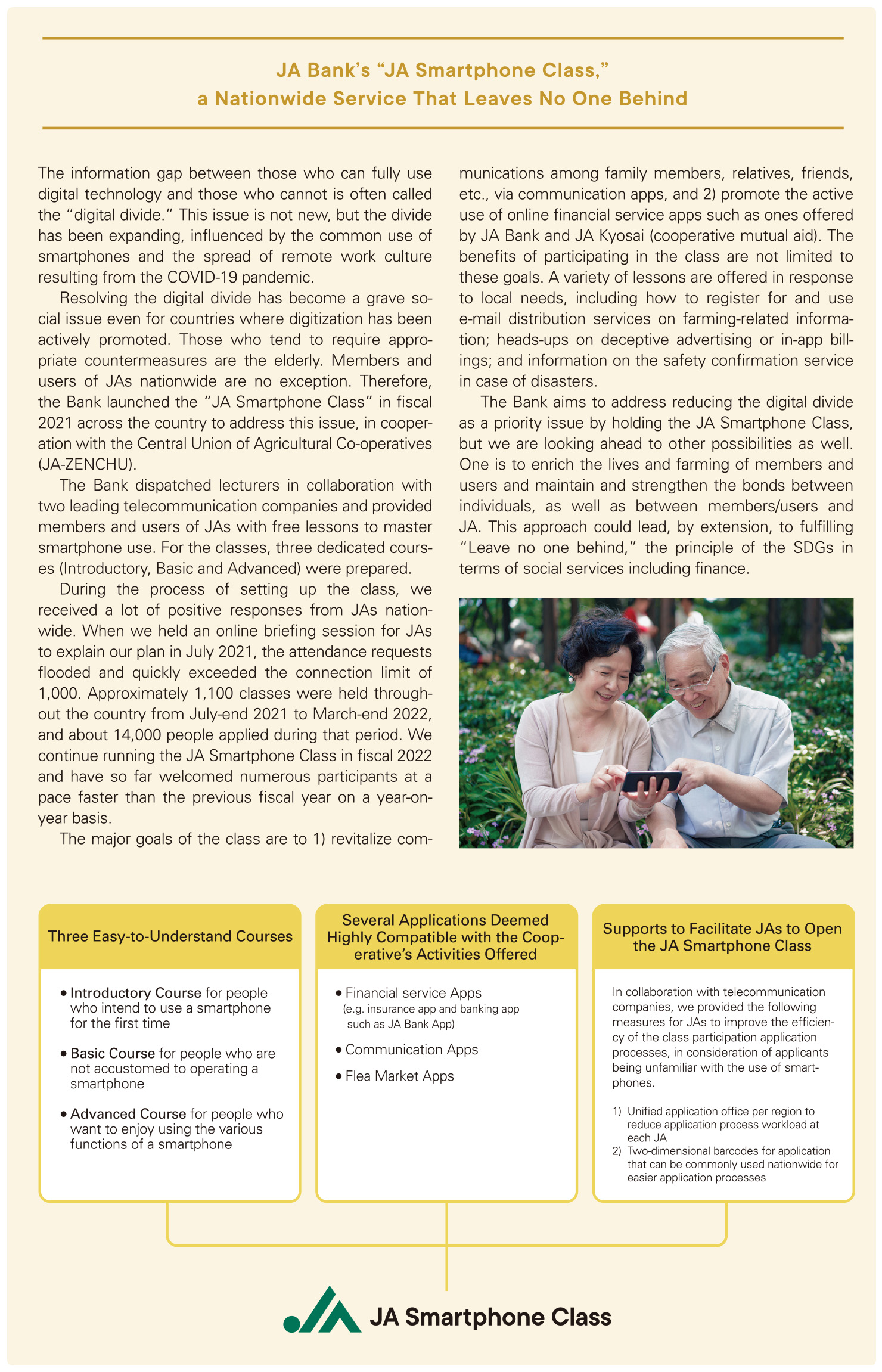 What is The Norinchukin Bank?
Related Links