Providing a range of financial functions as a member of JA Bank and JF Marine Bank
Developing businesses effectively as JA Bank and JF Marine Bank, while meticulously addressing the needs of each region
JA and JF in regions all around the country provide meticulous services to meet financial needs varying in each region as independent financial institutions. To provide these services more efficiently and effectively, JA Shinnoren and JF Shingyoren are responsible at the prefectural level, and The Norinchukin Bank, cooperating with other entities and leveraging economies of scale, is responsible at the national level in the Retail Business.
Among the JA cooperative organizations, The Norinchukin Bank, together with JA and JA Shinnoren, forms a financial group called "JA Bank."
The savings are first used by JA itself to meet local funding needs, mainly to provide loans for local farmers, agricultural corporations and users. Funds after such fund management are deposited with JA Shinnoren at the prefectural level and used to make loans to large-scale farmers and agricultural corporations and companies within the prefecture. Funds after that are deposited with us.
As the manager of such deposited funds, we make loans to and investments in agriculture, fishery and forestry industry groups, agricultural corporations, agriculture, fishery and forestry industry-related companies and other corporations in general in addition to investing in to global financial market with a diversified portfolio, returning profit acquired through such investments to JA Shinnoren and JA.
Also, in the fishery field, JF, JF Shingyoren and The Norinchukin Bank are collectively known as "JF Marine Bank," developing businesses efficiently in a similar way to JA Bank.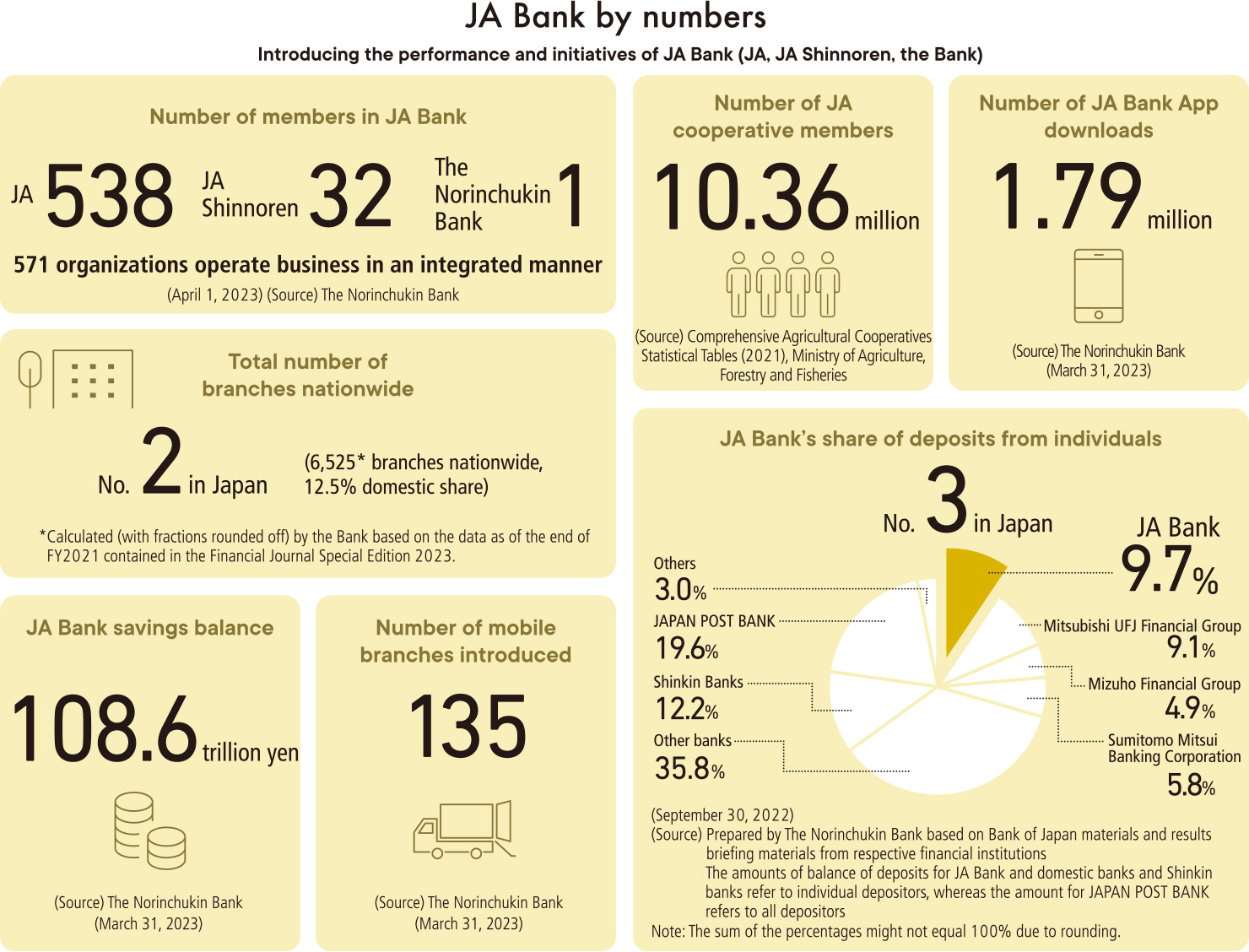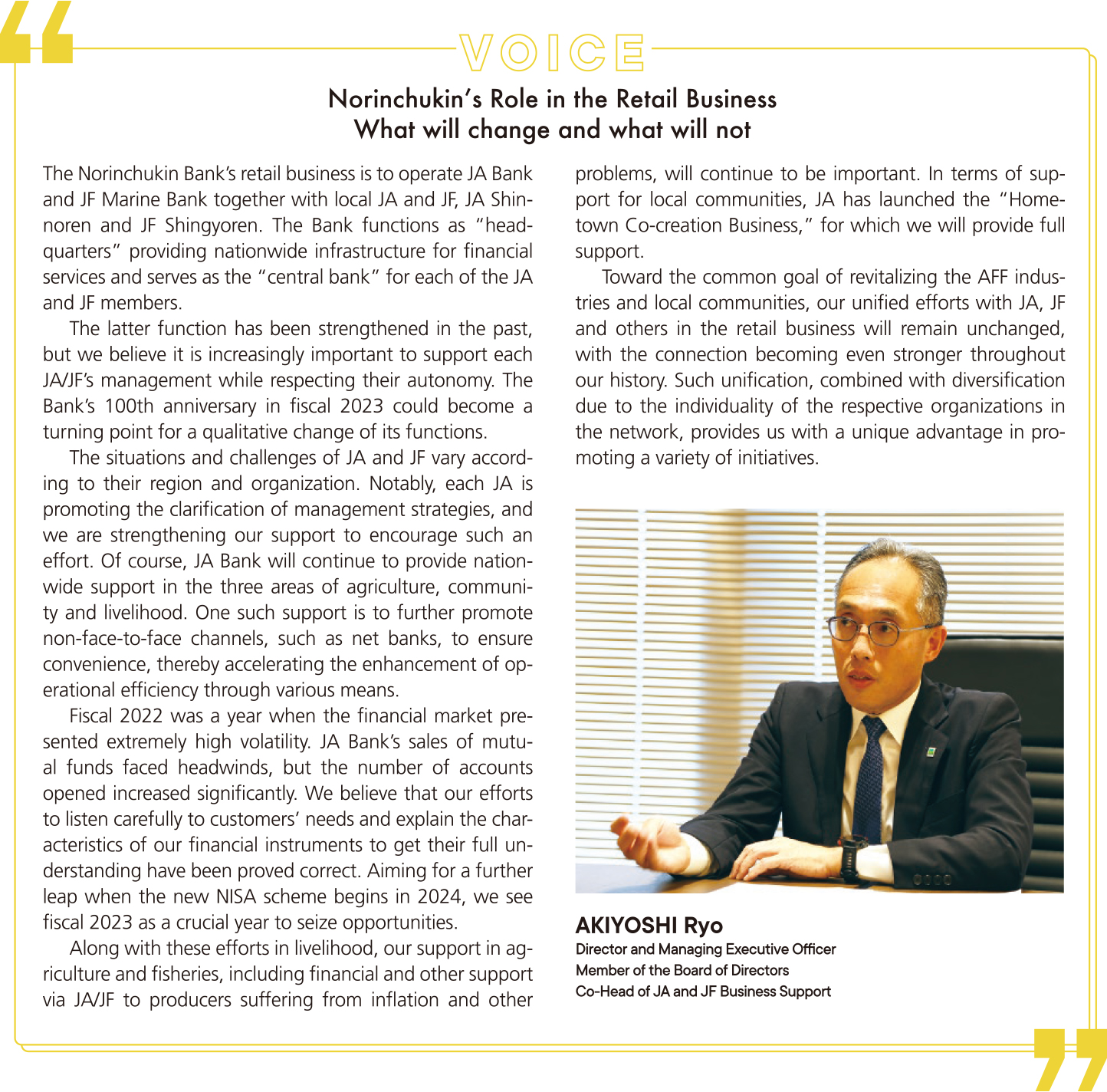 Conducting a life-plan support business to realize the life plan desired by individual members and customers and fulfill their needs
JA Bank conducts "life-event sales," which offers financial products and services timely and appropriately to accommodate individual members and customers' life events such as starting work, getting married, buying a house and retiring from work, and furthermore offers "life-plan consulting" to propose stable asset building and management.
These services are collectively called the "life-plan support business." By making proposals tailored to the life plans and needs of individual members and customers, we strive to help them achieve their desired life plan and fulfill their needs.
Specifically, in addition to various financial services such as savings, settlements and housing loans, JA Bank provides mutual fund and will trust services. Combining the services of other businesses operated by JA, we provide services that are possible only by businesses providing comprehensive services for all customers from the silver generation to the next generation.
To address the needs of these members and users, we are strengthening and expanding the non-face-to-face transaction channel by enhancing the functions of JA online banking and JA Bank App, etc.
In addition, we are reestablishing a face-to-face transaction channel including "branch offices providing comprehensive services" equipped with public relations personnel and specialists and "Yorisoi Plaza" to strengthen the contact point with users while enhancing efficiency.
JF Marine Bank also is engaged in a life-plan support business targeting fishery workers, utilizing its knowledge as a fishery-dedicated financial institution. Specifically, JF Marine Bank provides support such as consulting services for inheritance, life support loans according to life events and business succession.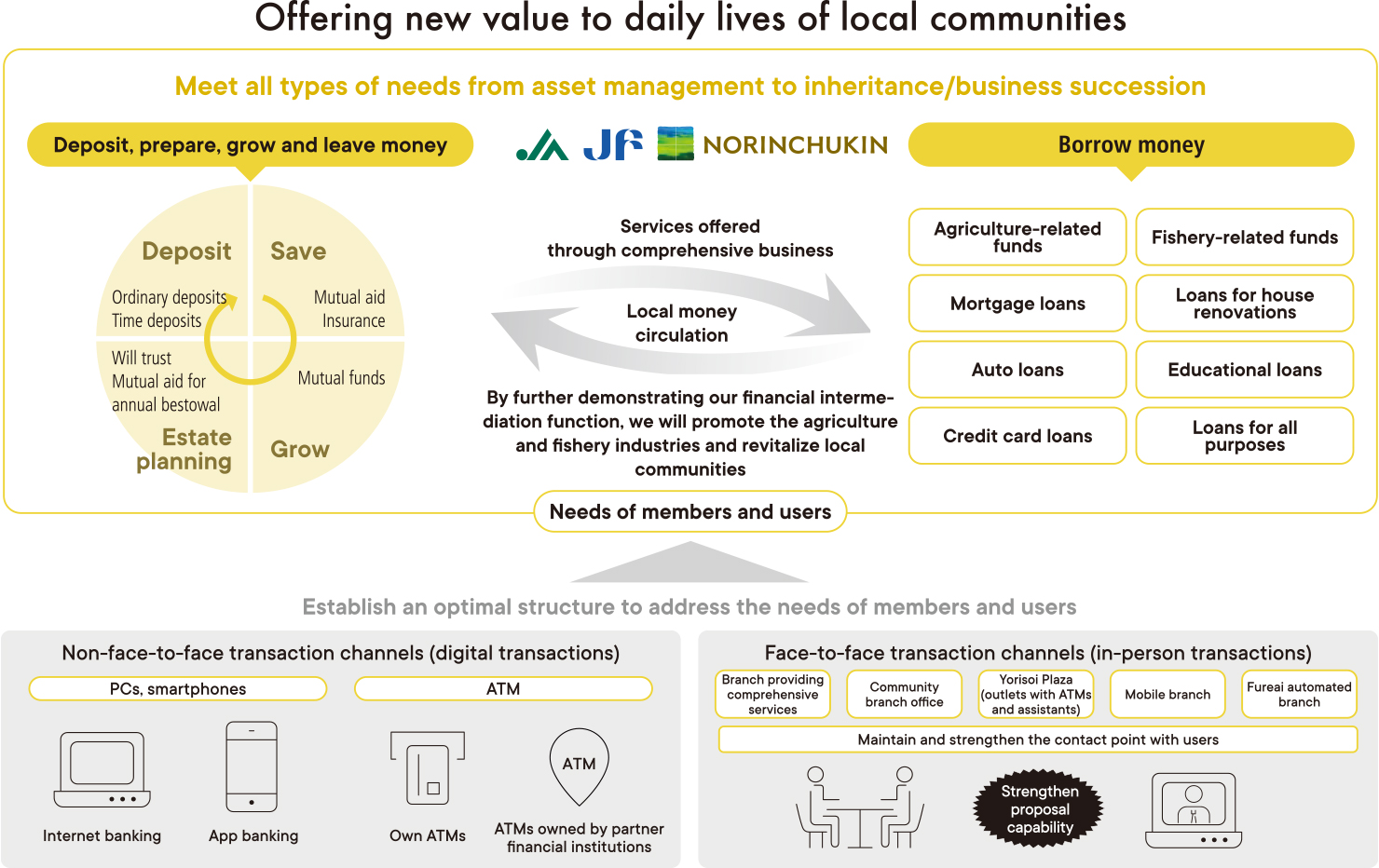 Strengthening the provision of loans and investments in the "Agriculture" field
JA Bank continues to be the main bank for the agriculture industry
JA, JA Shinnoren and The Norinchukin Bank are playing each role as JA Bank in the area of agricultural loans. JA meets the funding needs of small-scale family farmers and agricultural corporations in each region, whereas JA Shinnoren and The Norinchukin Bank play a central role in meeting funding needs for farmers and agricultural corporations running largescale operations.
As a result, JA Bank's agriculture-related loans total \2.5 trillion (including loans facilitated by JA Bank on commission for Japan Finance Corporation) with ¥1.2 trillion at JA, ¥0.8 trillion at JA Shinnoren and ¥0.5 trillion at The Norinchukin Bank.
Although a slight decline occurred in the balance of agriculture related loans of JA Bank for a few years, the balance shifted to an increase on a year-on-year basis as of March 31, 2017, thanks to strengthened efforts at approaching agricultural corporations. The amount of newly made agricultural loans also has continued to increase since fiscal 2016, when we strengthened this approach.
Furthermore, JA Bank not only provides loans but also makes investments. For example, it actively invests in agricultural firms that have technological capability but do not have sufficient capital to stabilize their financial position, supplying risk money according to the growth stage of such firms. Through this initiative, the number of investment projects and the amount of investments executed via the Agribusiness Investment & Consultation Co., Ltd., which was established by the JA Group jointly with Japan Finance Corporation, are on a steady rise.
Moreover, JA Bank and JF Marine Bank, as the main bank operating in agricultural and fishery local communities, respectively, started handling low-interest loans nationwide for customers affected by the spread of COVID-19 and consulting on various relief methods including revision of repayment terms for existing loans.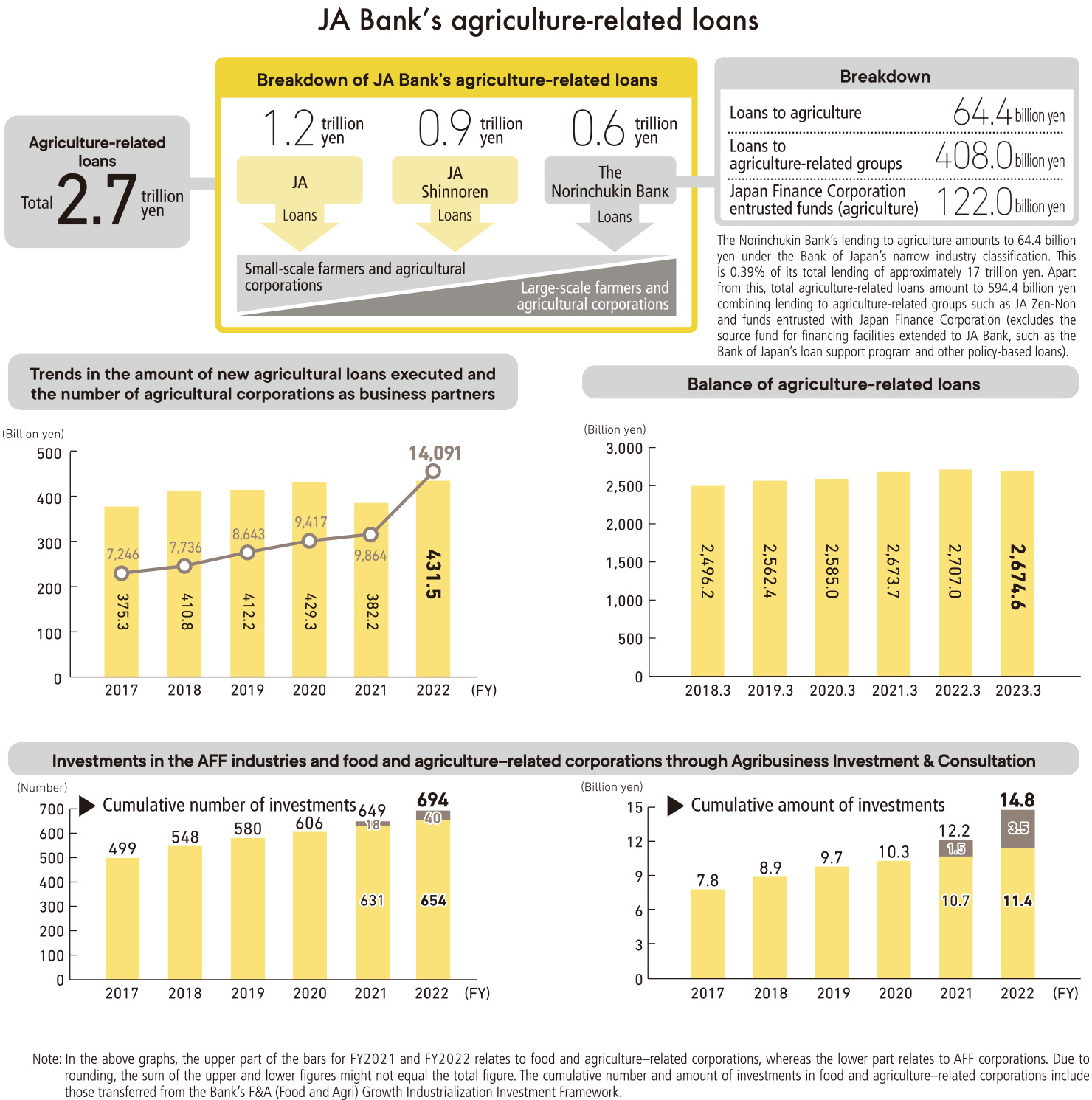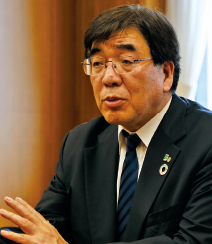 To Support Customers Facing Changes Directly, We Continue to Change Ourselves, Too.
The goals of our Retail Business are for JA Bank and JF Marine Bank nationwide to continue to be financial institutions trusted and chosen by residents in local communities, offer new value to local residents' lives and grow together with the members and users. To realize these goals, in fiscal 2019, JA Bank offered the life-plan support; JF Marine Bank reinforced financing for the fishery business and accelerated an initiative to strengthen and reorganize its business base through inter-regional integration of JF Shingyoren.
From the end of fiscal 2019 through fiscal 2020, COVID-19 has caused significant unanticipated changes such as volatile financial markets and increased difficulty in sales activities. Therefore, JA Bank has strengthened its ongoing measures to be able to continue to offer appropriate services and products to each customer. We have strengthened the contact point with members and users by reestablishing face-to-face transaction channels and strengthening and expanding non-face-to-face transaction channels; improved our functions and capabilities to address broader needs by offering asset building and management methods such as investment trusts other than deposits, even addressing inheritance and business succession plans; and continued to provide further support for producers, business operators and local communities facing direct COVID-19 risks. To address a broad range of issues, we are striving to accelerate changes in our measures and initiatives.
*Prefectural Banking Federations of Fishery Cooperatives
What is The Norinchukin Bank?
Related Links