Pursuing stable profit as the ultimate manager of funds for JA Bank and JF Marine Bank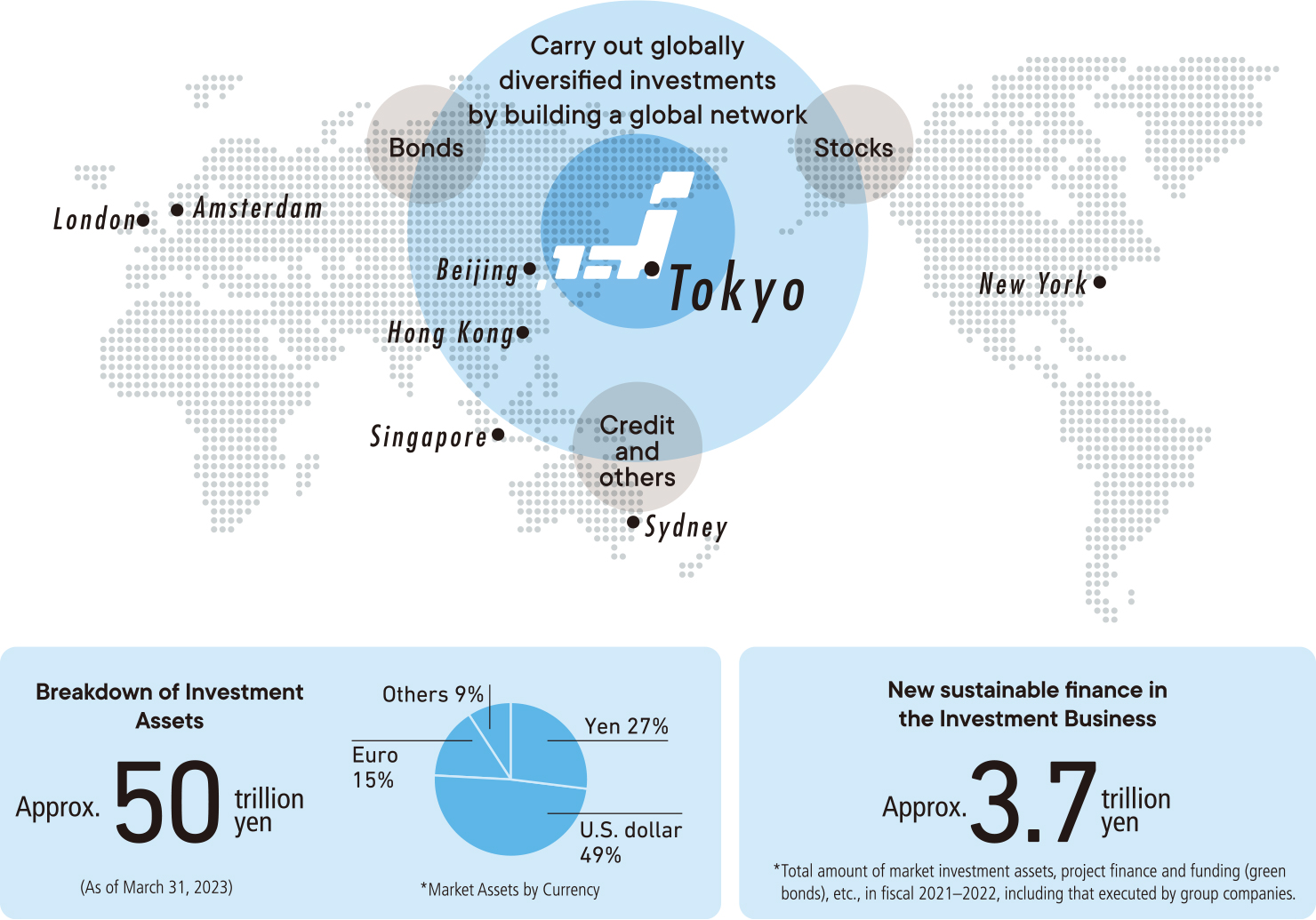 Ensuring stable profit over the medium to long term through globally diversified investments based on advanced risk management
The Bank plays a role as the ultimate manager of funds entrusted with JA Bank and JF Marine Bank. To fulfill this role, the investment business engages in efficient management taking advantage of economies of scale while continuing to ensure stable profit over the medium to long term and return it to our members as the ultimate objective.
Aiming to achieve this objective, for approximately 20 years since the start of the low-interest rate era in Japan, the investment business has worked on "globally diversified investments" in the global financial markets. We have built a global network using overseas sites including New York, London, Singapore, Hong Kong, Beijing, Sydney and Amsterdam. We control the risks of our overall portfolio by conducting due diligence with ample information and diversifying our investments in assets with different risk-return characteristics rather than concentrating investments in limited asset classes.
In particular, we utilize hedging for the risk of exchange rates, which could fluctuate significantly, as much as possible for investment in foreign currency denominated assets.
To pursue the utmost stability of profits for the medium and long term, we constantly review our investment methods and risk management and will continue taking on the challenge of upgrading our globally diversified investments.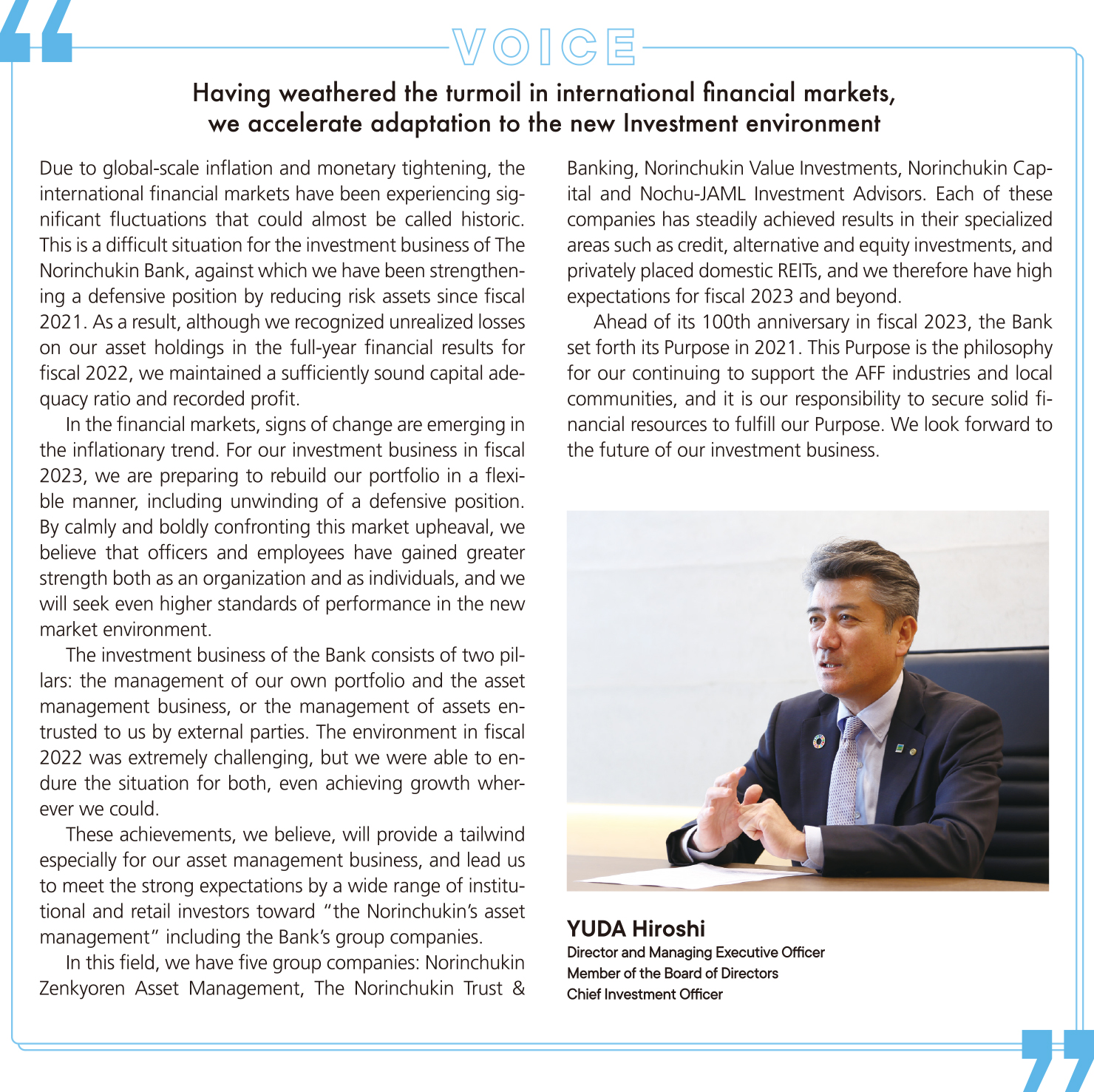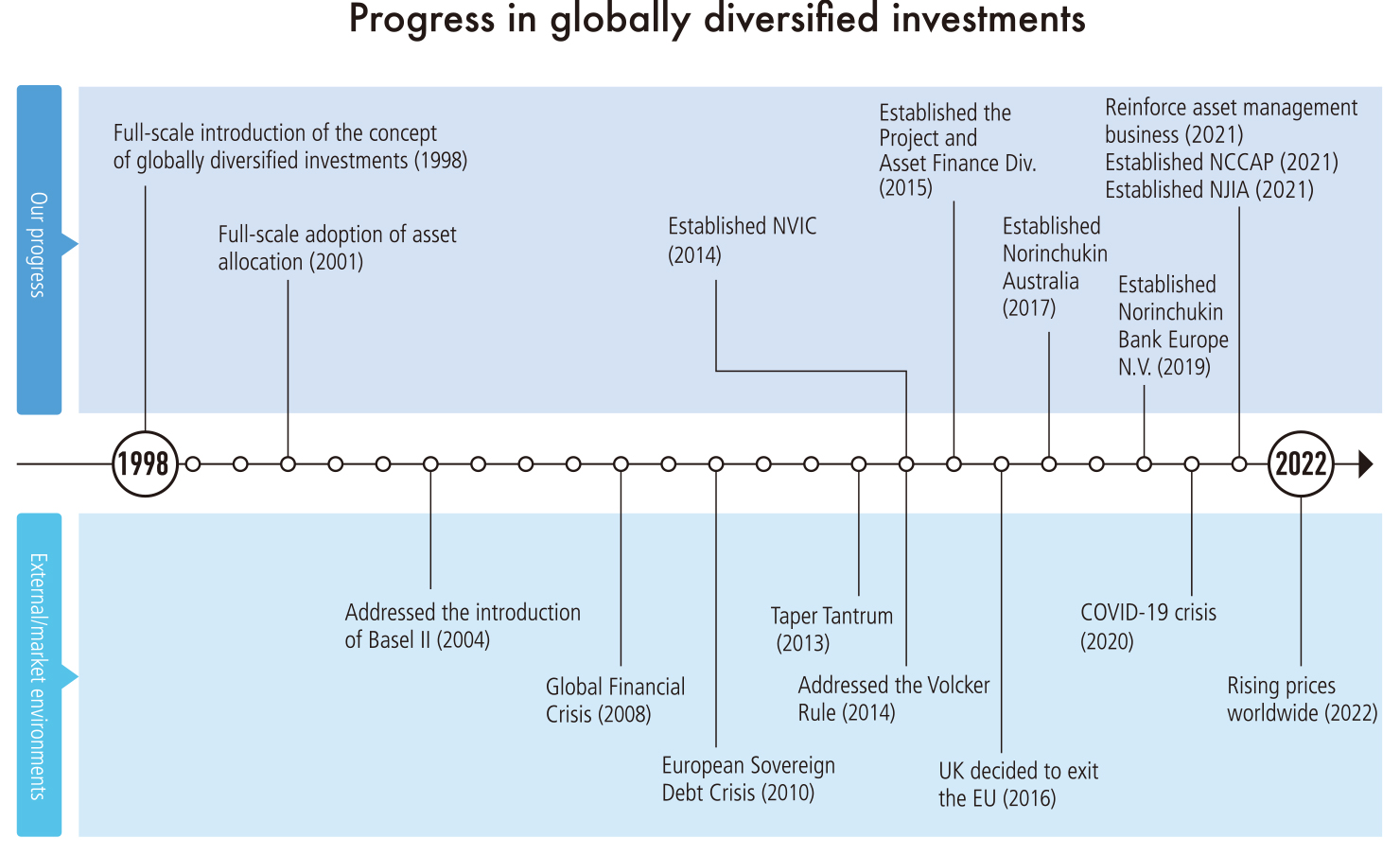 Bolstering the Asset Management Business—The Norinchukin Group is making group-wide efforts to diversify revenue sources
Under the policy of reinforcing our asset management business, we have newly embarked on offering products to clients after having transferred our credit and alternative investment functions to NZAM, an affiliated company of the Bank, in fiscal 2021. In addition, we newly established NCCAP for private equity investment and NJIA for managing domestic real estate private REITs. We intend to effectively use our management experience to meet diversified customer needs (including, e.g., ESG investment products, green real estate investments).
Our expert team within the Bank that has bolstered the asset management business has also been assigned to strengthen the group-wide asset management business. At the same time, we aim to increase and stabilize revenue from the investment business by ensuring management fees that are not affected by economic fluctuations and to leverage this business to realize our Purpose.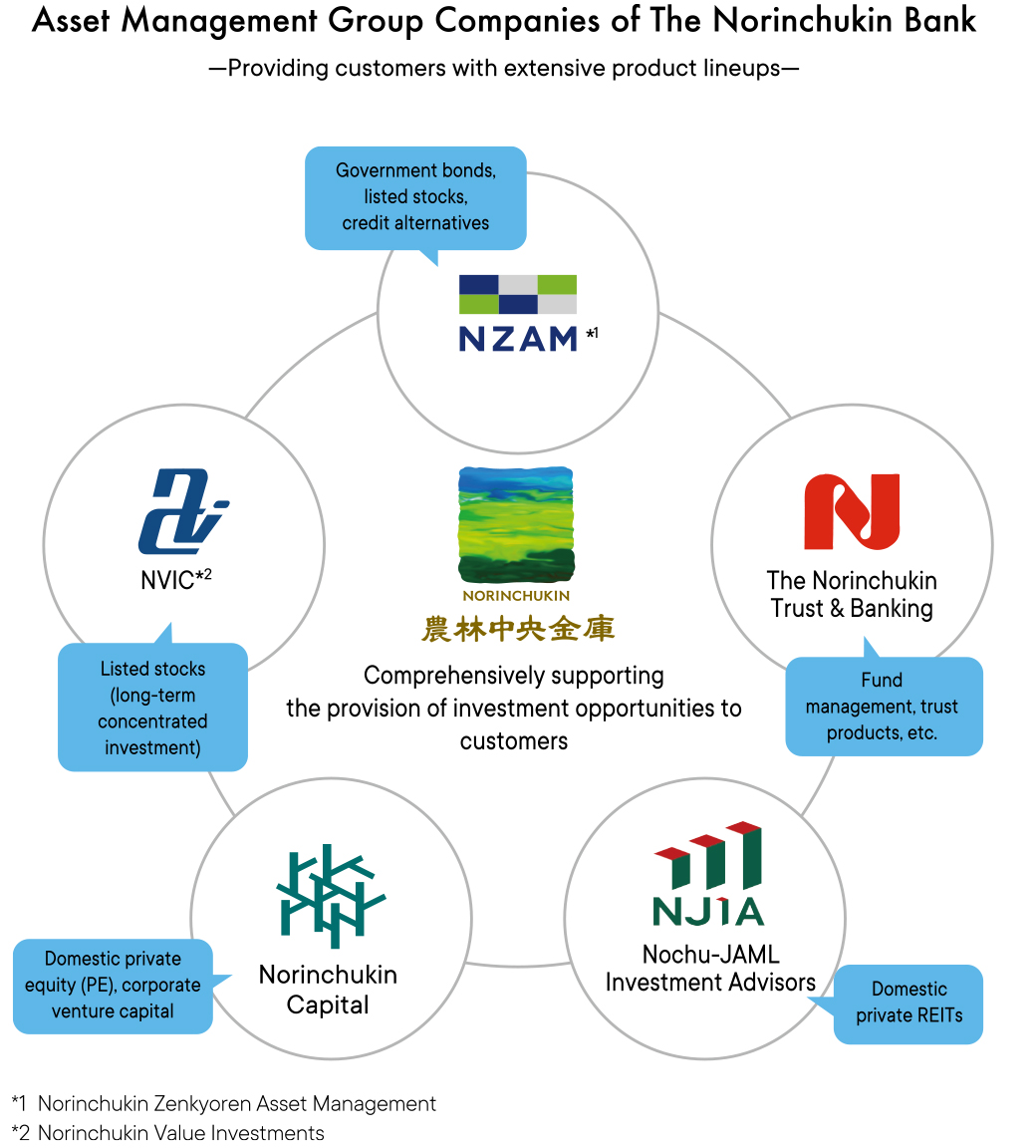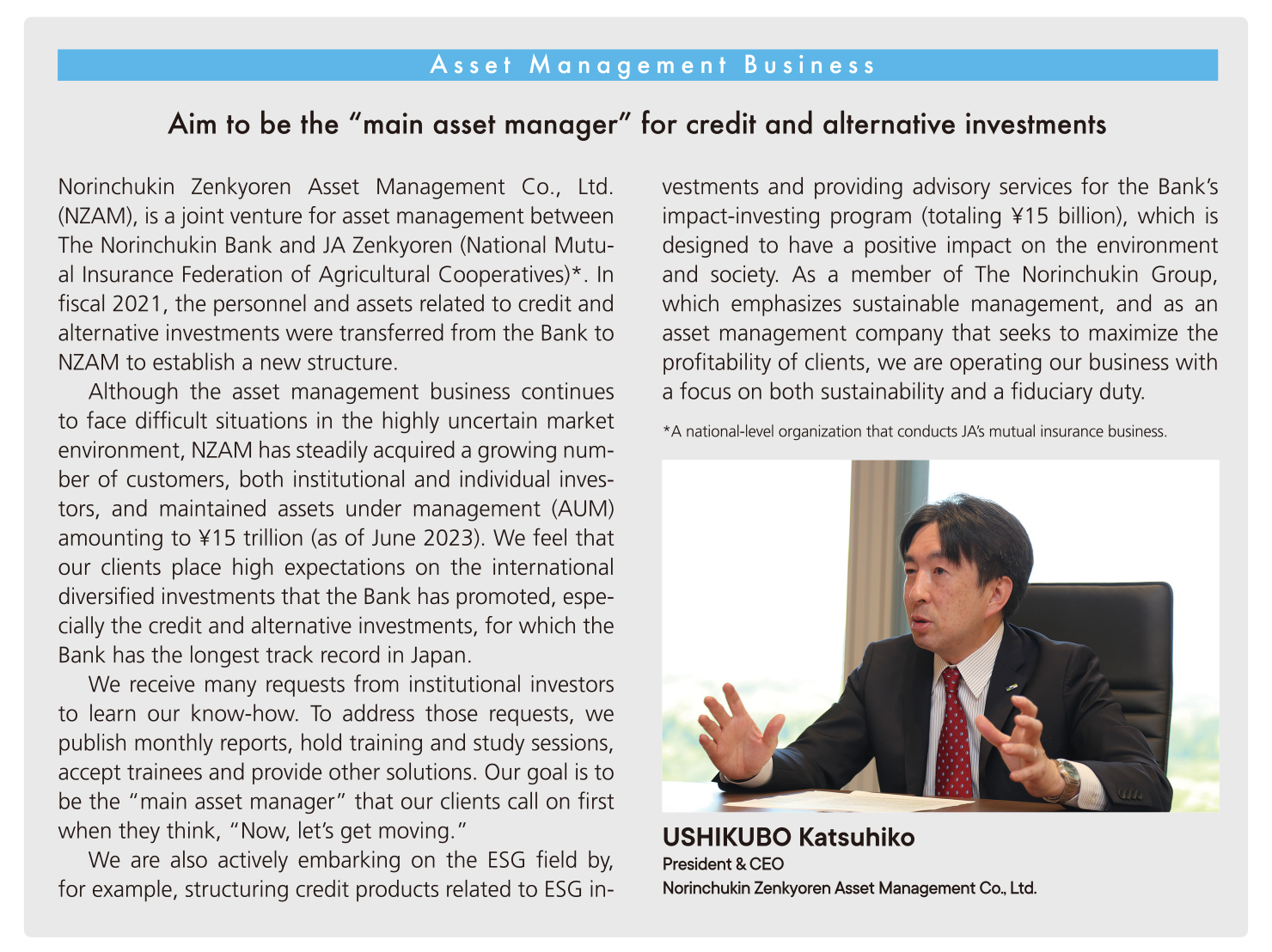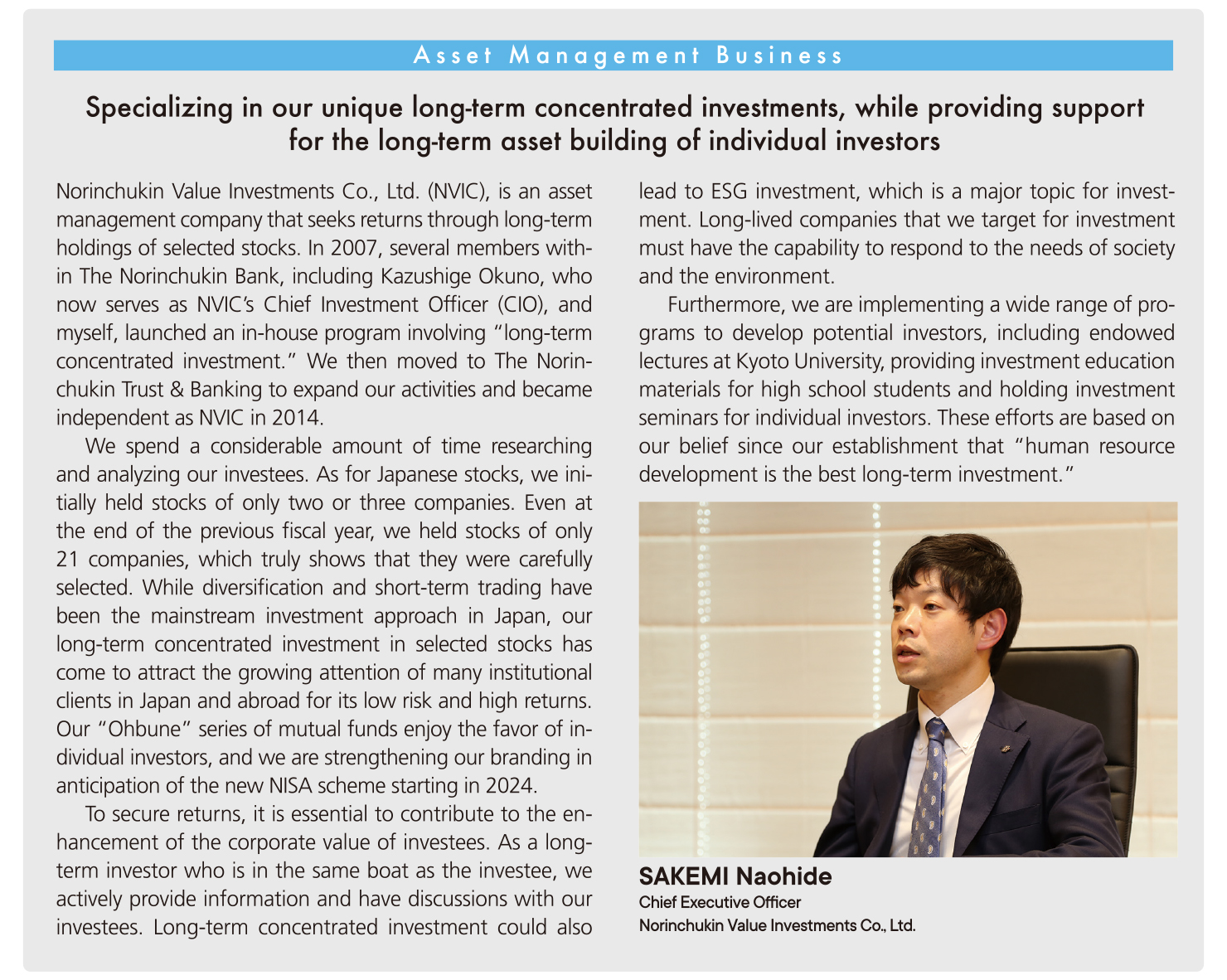 What is The Norinchukin Bank?
Related Links