Pursuing stable profit as the ultimate manager of funds for JA Bank and JF Marine Bank
Ensuring stable profit over the medium to long term through globally diversified investments based on advanced risk management
The Norinchukin Bank plays a role as the ultimate manager of funds entrusted with JA Bank and JF Marine Bank. To fulfill this role, the Investment Business engages in efficient management taking advantage of economies of scale while continuing to ensure stable profit over the medium to long term and return it to our members as the ultimate objective.
Aiming to achieve this objective, for approximately 20 years since the start of the low-interest rate era in Japan, the Investment Business has been working on "globally diversified investments" in the global financial markets. We have built a global network using overseas sites including New York, London, Singapore, Hong Kong, Beijing, Sydney and Amsterdam. We control the risks of our overall portfolio by conducting due diligence with ample information and diversifying our investments in assets with different risk-return characteristics rather than concentrating investments in limited asset classes.
In particular, we utilize hedging for the risk of exchange rates, which could fluctuate significantly, as much as possible for investment in foreign currency denominated assets.
To pursue the utmost stability of profits for the medium and long-term, we constantly review our investment methods and risk management and will continue taking on the challenge of upgrading our globally diversified investments.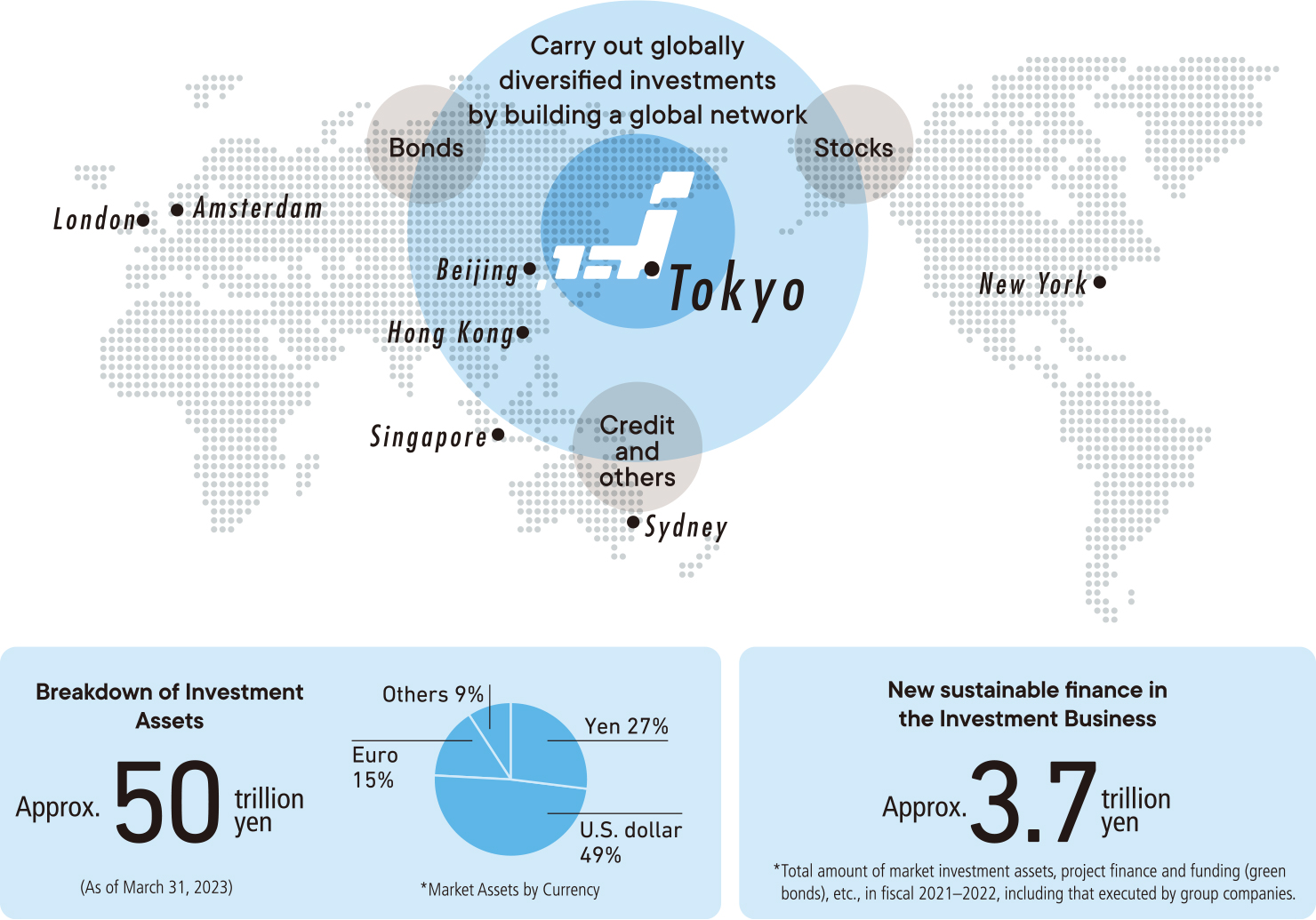 We introduced the "globally diversified investments" in fiscal 1998. To address the impact of low interest rates and intensified competition in investments and loans in Japan, we aimed to expand asset classes to enhance our asset management capability.
In fiscal 2001, we introduced the concept of asset allocation on a full scale and established an asset management structure to optimize our entire portfolio. Since fiscal 2008, the year when the finance crisis occurred, we made a fundamental review of our asset class selection method and strove to establish a sturdy portfolio with low volatility (changes in prices).
Afterward, we engaged in the expansion of asset class and the sophistication of investment methods and risk management as well as structural improvement. We entered project finance business (see page 45) and other investments.
From fiscal 2017, we have been strengthening our operational structure by sending our Board members to overseas business bases as resident officers. We also have newly established a local subsidiary in Australia to conduct mainly project finance businesses and a local subsidiary in the Netherlands to operate the Bank's banking business in Europe.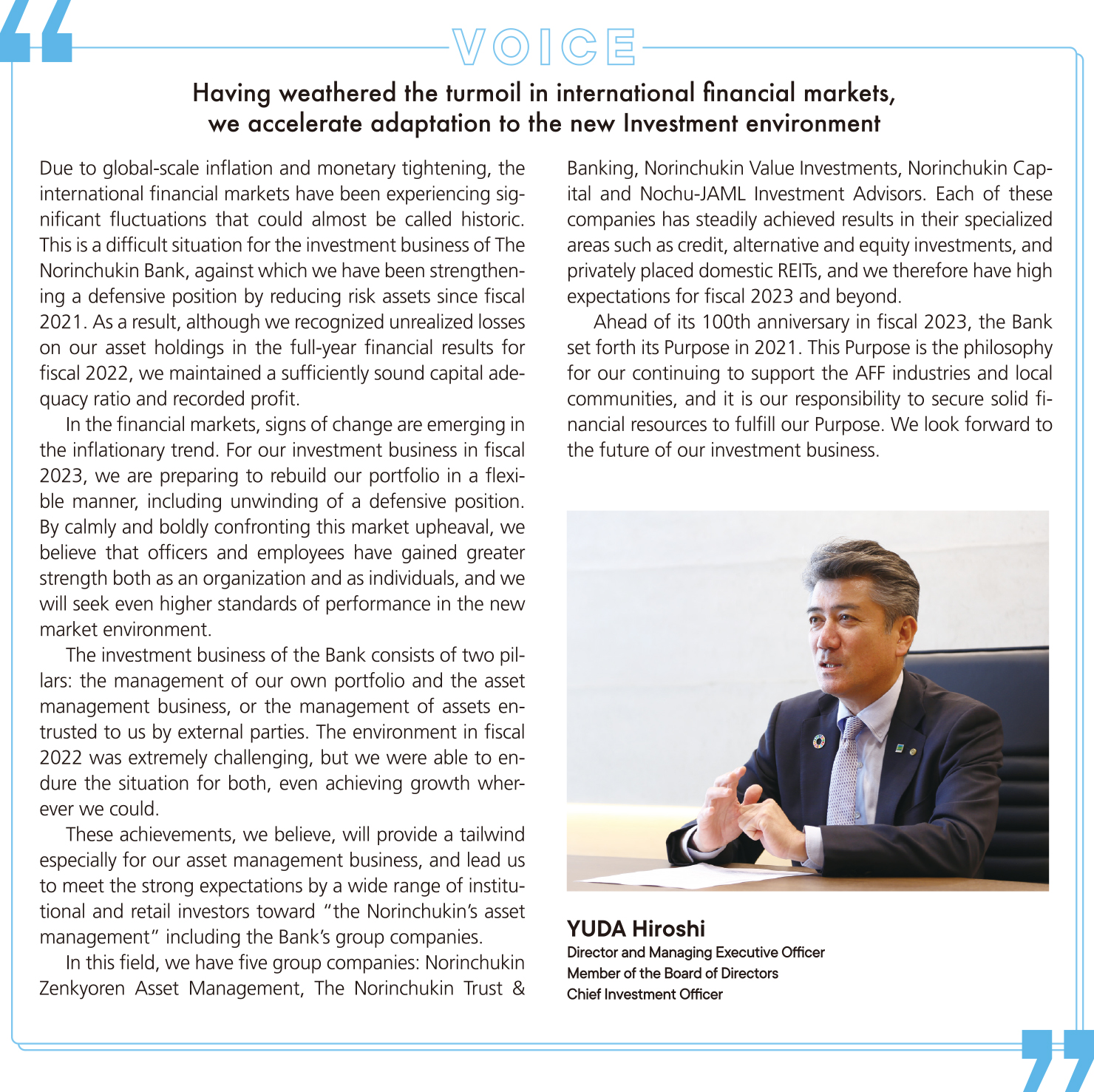 Today's globally diversified investments by Norinchukin
It has been approximately 20 years since the introduction of the concept of globally diversified investments and more than 10 years since the collapse of Lehman Brothers. During that time, our globally diversified investments have continued to evolve and deepen, which is reflected in our current portfolio.
The portfolio consists of roughly four kinds of asset classes—bonds, stocks, credit assets and alternative investments— each with different investment targets, which are described below.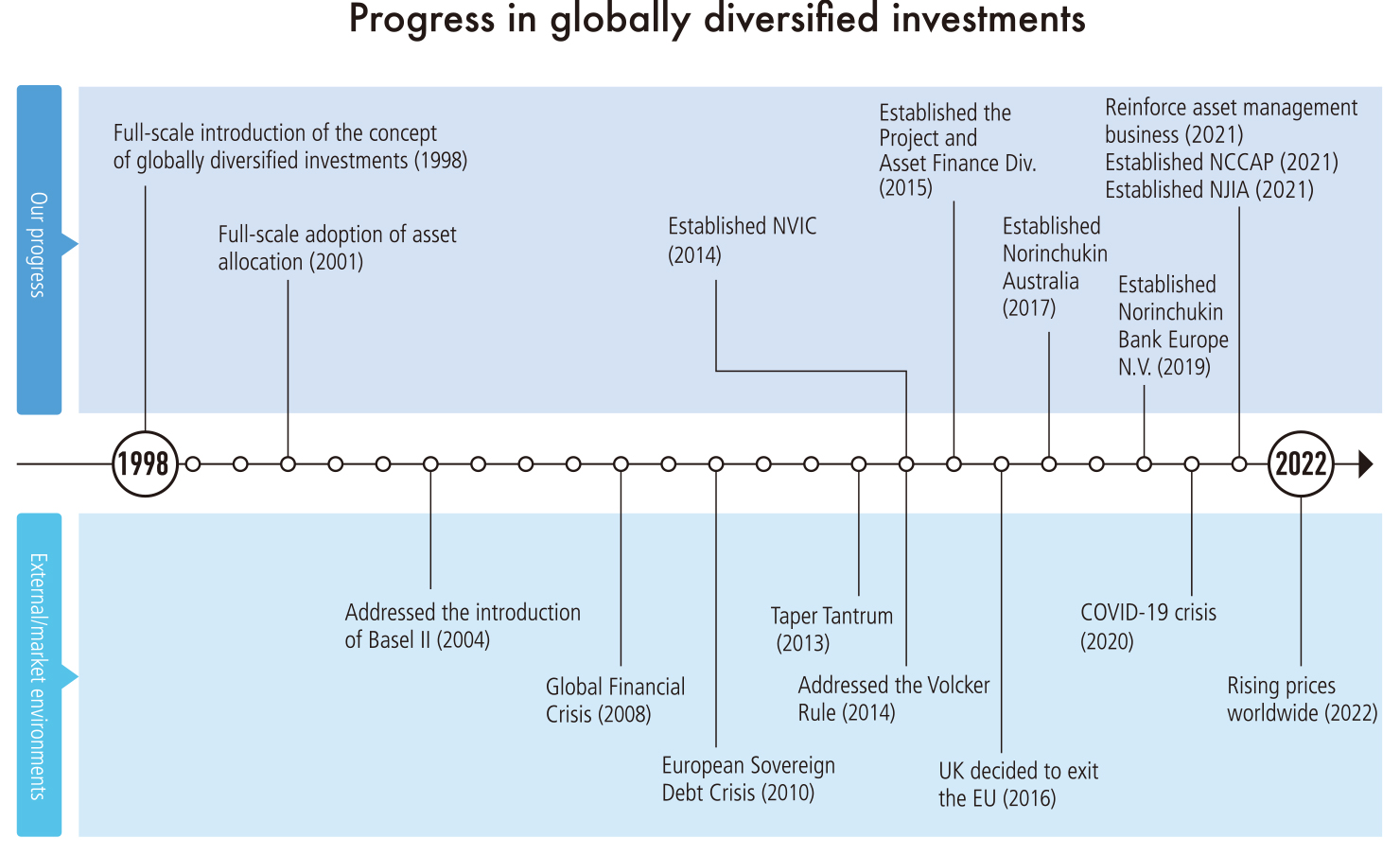 Bolstering the Asset Management Business to Diversify Revenue Sources
The Norinchukin Bank's globally diversified investments enjoy a high reputation based on its long-term experience and steady track record. Recently, we decided to transfer our credit and alternative investment functions to our subsidiary Norinchukin Zenkyoren Asset Management Co., Ltd. (NZAM), to bolster our asset management business.
The asset management business earns asset management fees in accordance with the size of entrusted assets, securing a revenue stream that is not susceptible to economic fluctuations. In addition to our proprietary investment and trading, we are going to secure fees in this business. We will further promote the diversification of revenue sources to enhance and stabilize Investment Business revenue.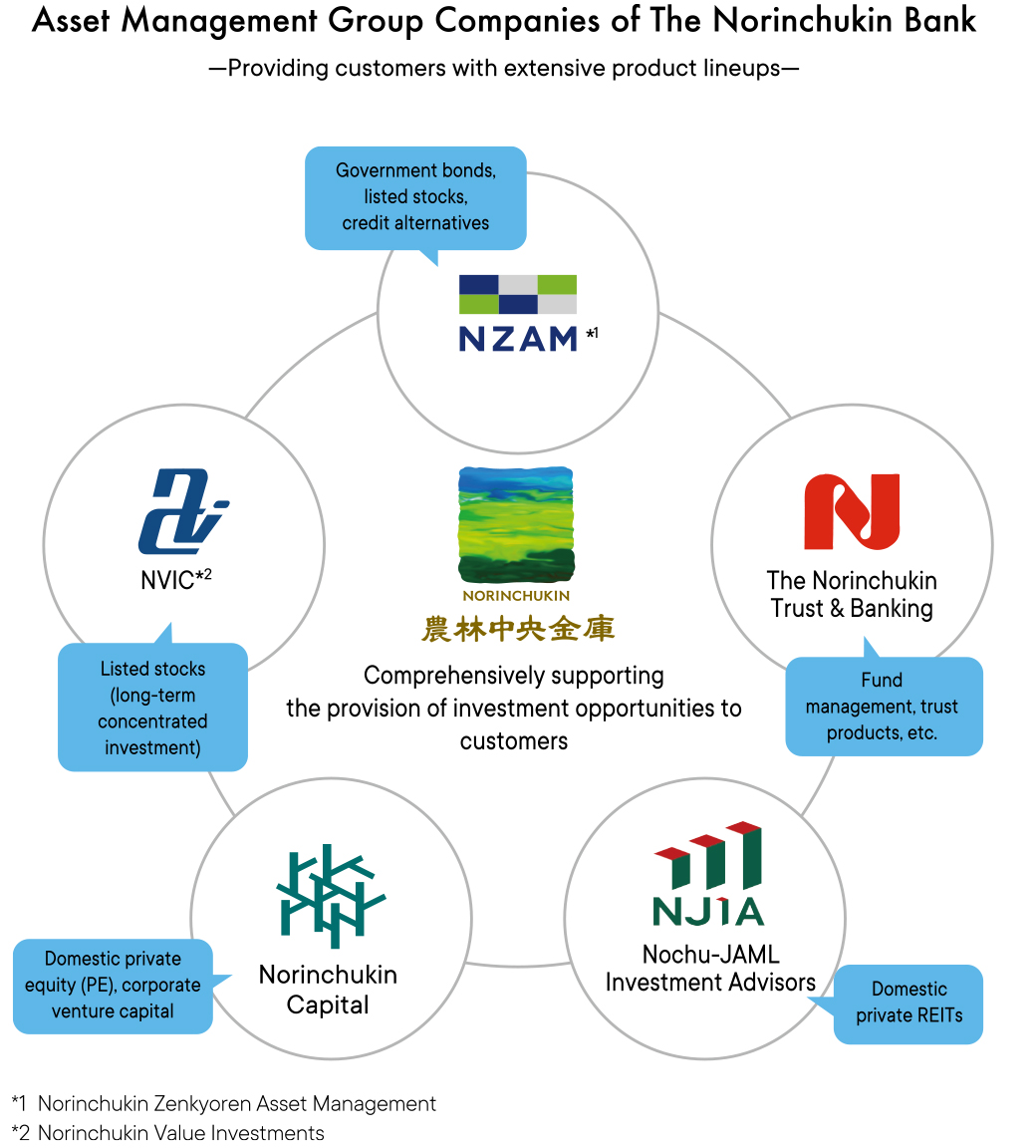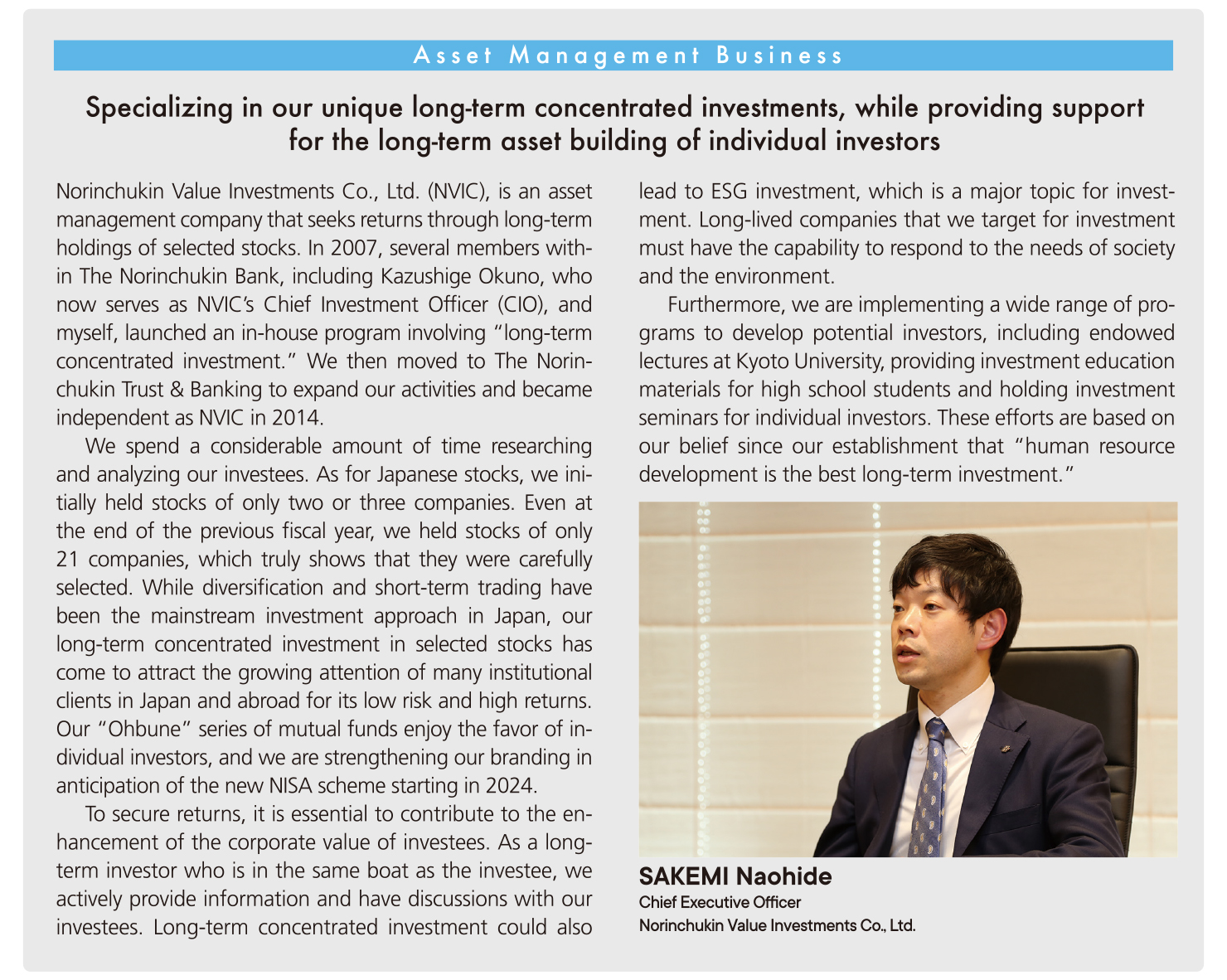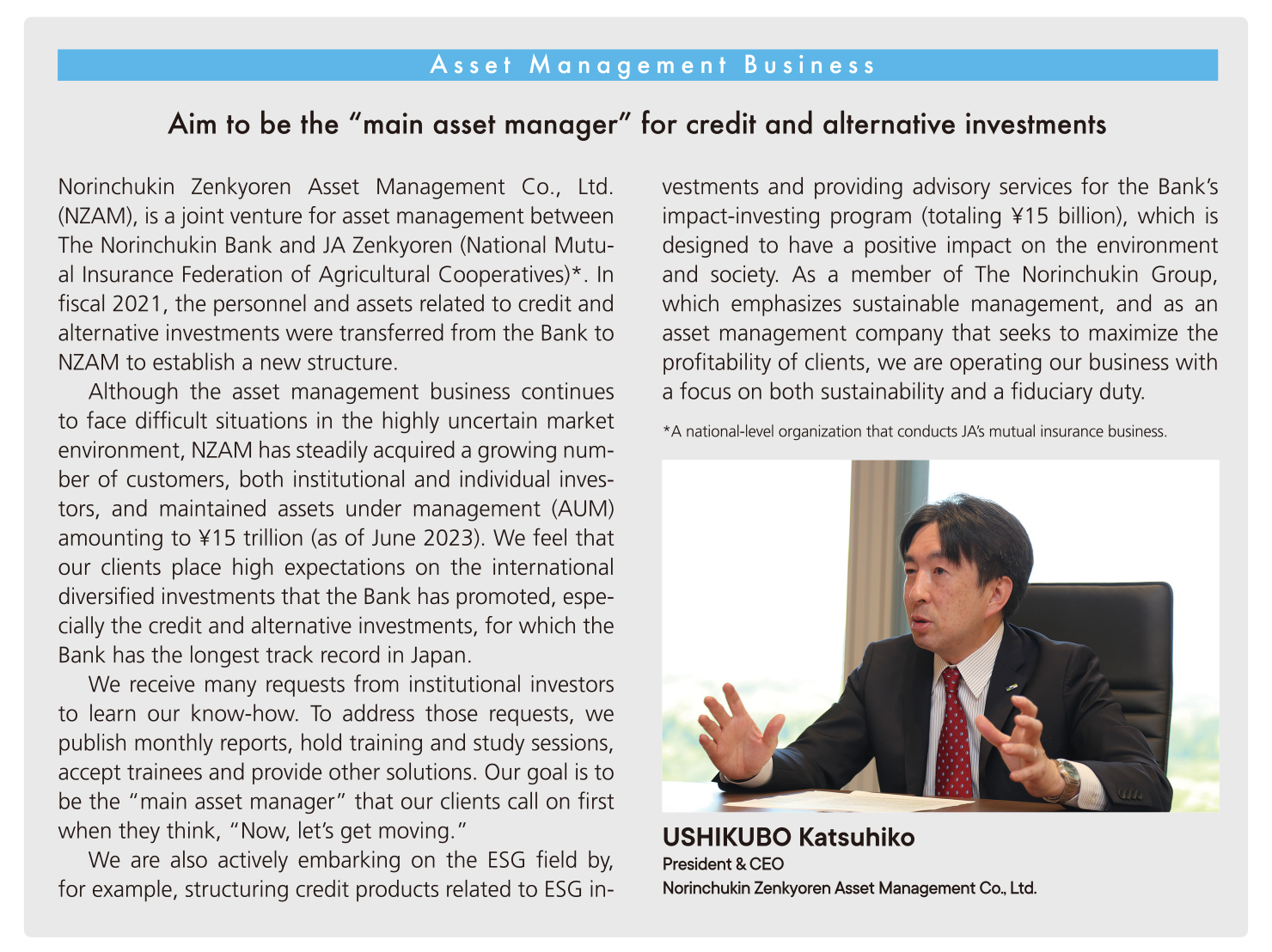 What is The Norinchukin Bank?
Related Links